Email Template Bundle for Lifestyle Family Photographers
Regular price

Sale price

$90.00
We all know that first impressions are important, so make sure you start off on the right foot with your clients with these email templates! Coming up with what to say can be tough, but I've got you covered.
These email templates are written in a lighthearted and fun voice, while staying professional and personable at the same time.
I've been in business for over 12 years and have fine-tuned these emails to perfection. After anything at a session would go wrong, I'd go and adjust my emails so that thing wouldn't happen again, and you can benefit from my experience.
So if you're looking for a way to make your client communications easier (and more fun), then grab this email bundle and watch your client satisfaction go up!
This bundle INCLUDES the inquiry response email, so no need to buy that separately.
Please only purchase if you are at least 100 miles from Portland, Oregon. I use these emails so that would be awkward!
What is Included

Initial inquiry response email
Location selection email
Styling email
Welcome guide email (welcome guide sold separately)
Questionnaire delivery email (questions not included)
1 week prep email
What to expect after the session
Session reminder
First gallery is ready
Final gallery is ready
Ask for referrals email
Ask for reviews email

Share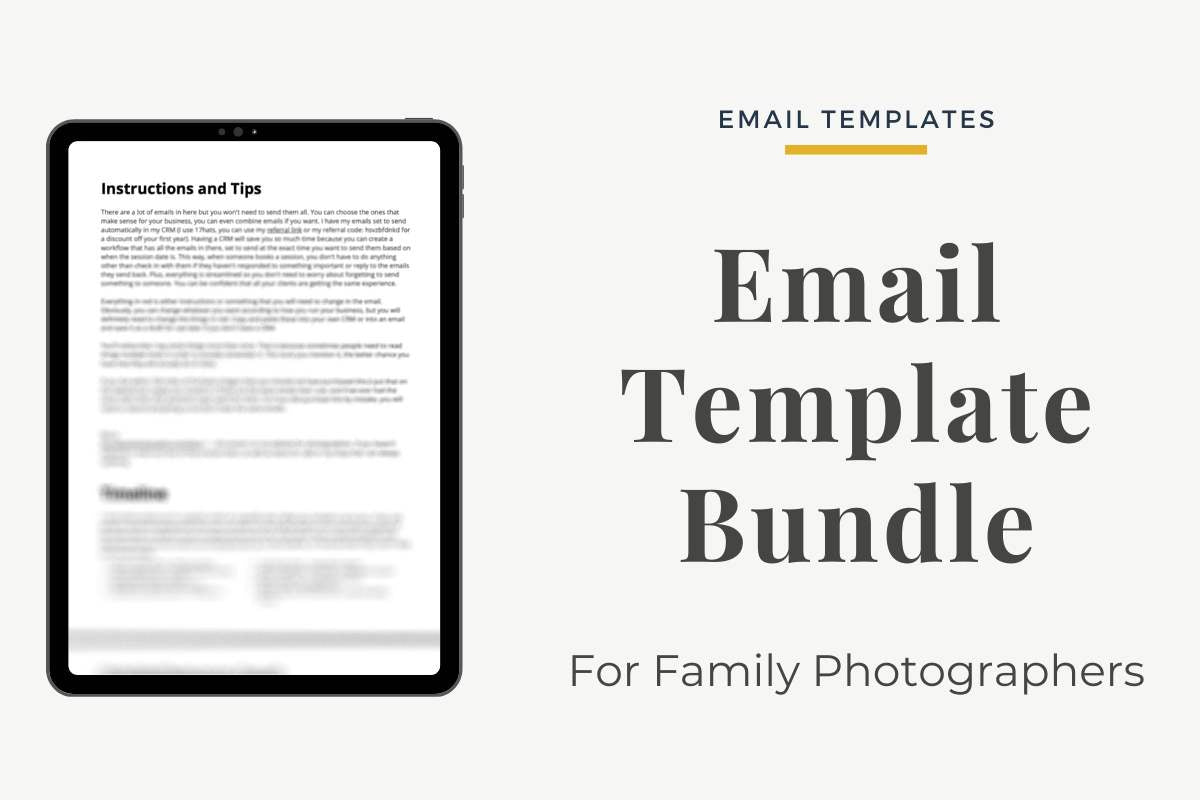 Make your family photography business run smoother
These are the complete pack of emails that I send to my own clients, and I'm sharing them so you can use them for your business, too.
These email templates will work for family lifestyle photographers, or portrait family photographers. You can choose which emails make the most sense for your business and tweak them depending on the things you offer.
There's even a timeline so you know when to send them!
Copy and paste these emails into your CRM or into your email program, tweak them to your needs, and you'll be set!
What email templates are included?
Initial inquiry response email
Location selection email
Styling email
Welcome guide email (welcome guide sold separately)
Questionnaire delivery email (questions not included)
1 week prep email
What to expect after the session
Session reminder
First gallery is ready
Final gallery is ready
Ask for referrals email
Ask for reviews email
FAQs
Will these email templates work for my photography business?

As long as you photograph families, these should work great for you! The emails focus more on lifestyle photography, but you can adjust them to fit your business (for example, if you do a lot of portraits where clients are looking at the camera, you can take out the parts about not looking at the camera 😉)
How do I use these templates?

Copy the text from the included PDF and paste it into your emails! Then change it around to fit your business and you're ready to go. I'd suggest creating templates in your email system or CRM so they are ready when you need them.
Do you offer refunds?

Since this is a digital product, it can't be returned so please be sure you are purchasing the correct product before checking out.
Can I use these if I live close to Portland, Oregon?

No, sorry! Since I take clients here, I ask that you not purchase these email templates if you live within 100 miles of Portland, Oregon. It would be super awkward if we had the same client and they got the same emails from both of us.
Will these work for me no matter where I live?

Yes! These are designed to work for family photographers regardless of where you are in the world.
Can I post these words publicly online (in my blog or social media)?

Sorry, but no. This is not meant to be posted publicly online. These words are for your clients only, so please only send it to them privately.

I also ask that you kindly not share these words with your photographer friends. If you love it, encouage them to purchase a copy for themselves.
What photographers are saying





For more than ten years, I struggled to effectively communicate with my clients, often finding myself overwhelmed with responses and simple questions that should have been addressed beforehand. This was when I knew I needed to invest in Becca Jean Photography's email pack. This investment turned out to be a game-changer for my business.




Becca's email pack provided me with the comprehensive tools and resources I needed to communicate clearly and inform my clients about what they could expect from our photography sessions. By implementing and automating these emails into my CRM, I saw an immediate improvement in my clients' preparedness, their outfit choices, and their thorough understanding of the process.




Since utilizing Becca Jean Photography's email pack, my business has received raving reviews for communication and the preparation I provide to my clients, all without any additional effort on my part. The thoughtful and informative content of these emails has not only saved me time and energy, but it has also elevated the overall experience for my clients, setting the stage for successful and seamless sessions.




I am incredibly grateful to Becca for equipping my business with the necessary tools to succeed. Her email pack has not only revolutionized the way I communicate with my clients, but it has also enhanced the overall satisfaction of those who choose my business. I recommend Becca Jean Photography's email pack to any photographer seeking to streamline their client communication and create an exceptional experience from start to finish.




Thank you, Becca Jean Photography, for playing an instrumental role in my businesses success and ensuring that my clients receive nothing short of the best.

Brandi Trotter Photography 
Rebecca's email templates are concise and to the point. They are a great supplement to your business. The templates work you through each step of a communication with your client. From initial email, to all the details prior to the session, to after gallery delivery and even how to ask for great reviews. She thinks of every single detail or question your client can ask and offers the answers through these templates.

SUSANNA F.
I often struggle with how much information to give clients and what to say to them before a session. These email templates took that struggle away from me! Rebecca really lays out what to expect out of a session in these emails and it's definitely why Rebecca gets the natural and authentic moments from her clients. I'm so happy to now be able to offer this clear communication to my clients.

ERIN S.
I have purchased Becca's email templates bundle and it has saved my life! It's professionally written and easily customizable for your business. The bundle saved me a lot of time and I strongly recommend it.

KSENIA L.
Once again, Becca is generous with her knowledge and has created a gold mine for Client Correspondence emails.  If you are new to photography or a seasoned photog looking to really up your client game, I highly recommend these templates.  They are CHOCK FULL of knowledge, incredibly well worded and thoughtful.  She explains to her clients the before, during and after a session in a way every client can relate to, and every photographer can appreciate.

SARA M.
Please only purchase if you are at least 100 miles from Portland, Oregon so we are not sending the same emails in the same area!