Family Photography Prompts and Poses Digital Cards
Regular price

Sale price

$50.00
If you're looking to take your family photography to the next level, these digital cards are for you! With 50 prompts and poses, you'll be able to capture genuine connection and emotion in your photos. I'll show you examples of each pose or prompt, along with tips on how to make it your own. These cards are easy to access on your phone, so you can reference them before or during your session. 
From playful interactions to tender moments, these digital cards will help you capture all the joy, love, and connection in the families that you photograph. So get ready to create some beautiful memories!
What is Included

50 prompts and poses for family sessions delivered in digital form
Share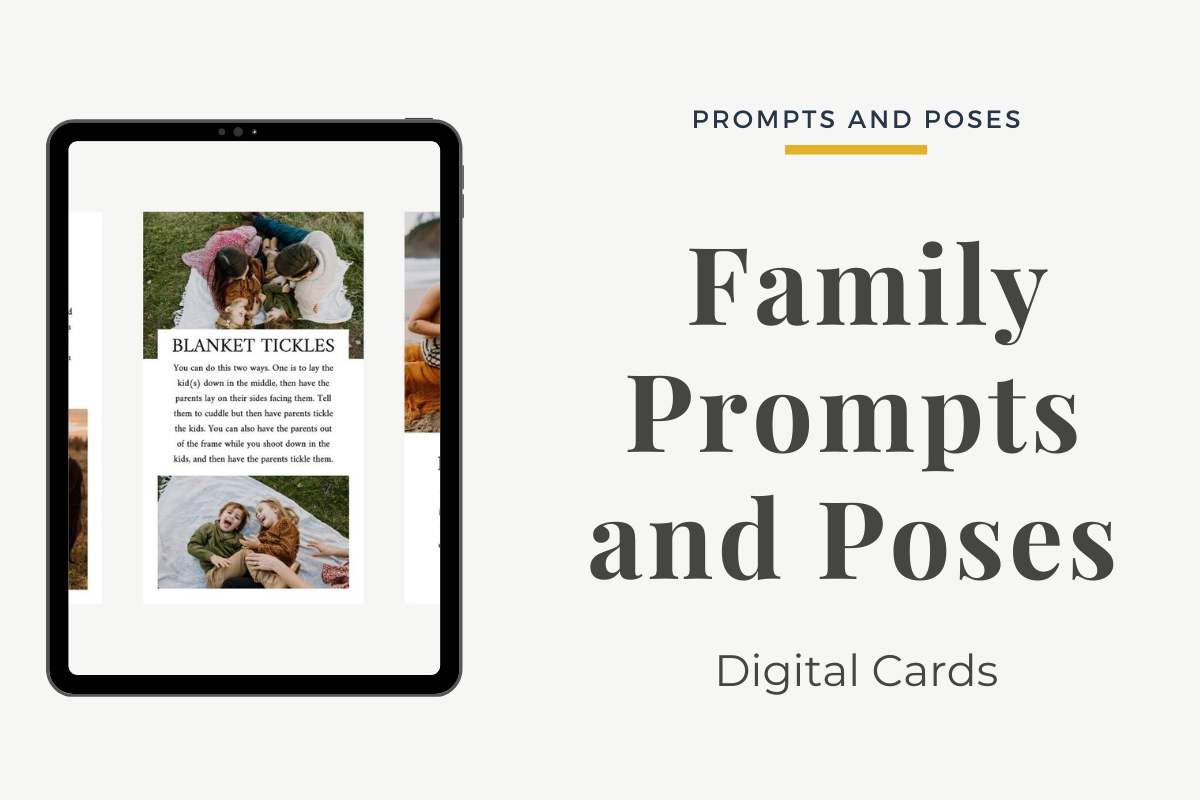 This includes 50 prompts and poses to help you bring out connection with your clients during your next family session. I will show you photo examples along with the prompt or pose instructions. I even give you tips to really make it your own. These cards are delivered in digital form (as a pdf and as individual images) and are meant to be kept on your phone for easy viewing before or during your session.
FAQs
Are these static pose ideas?

No, these are full of movement and games to bring out real emotions in your clients, rather than just having them stand there and smile. Sometimes there is a pose idea, but with a prompt to create interaction.
Do you explain how to use these?

Yes, I give you ideas for how to use these during a session on the intro page!
Do you offer refunds?

Since this is a digital product, it can't be returned so please be sure you are purchasing the correct product before checking out.
Are all of these prompts and poses for the entire family?

Not all of them! Some are for just mom and a kid, or only siblings, etc.
Do you include any prompts for extended families?

Although they don't focus on it, some of these would work great for an extended family.
What photographers are saying




First of all, wow, I LOVE this guide so much!! I'm simply blown away, this is amazing for any family photographer! It has such useful information. I love how you explain each pose in detail and a few options to do it. If one doesn't work, I can try another thing you listed and can still get the same look/feels. I also love that most of poses are more like little activities. You will get so many great shots during one "pose". They are also a good combination of close up and pull back shots, and we can get a great variety of shots.

AYUMI
This guide is INCREDIBLE!!!! It is beautiful and full of so many great prompt ideas! I really love how you provided actual photos of the prompts to demonstrate each one. It helped me to really get an idea of what you were saying in the guide. I think photogs will be able to use these prompts over and over and still get different results each time which is so great! This guide is gold and will be so helpful to any photographer at any level!

CYNTHIA
Wow. This was so incredibly beneficial to my photography going forward. My problem is not knowing what to say. I can get the angles and the lighting and all the others, but knowing what to say to get the emotion across is just what this provides. After purchasing this - customers will feel validated in their purchase because it provides so much detailed information that is simple, yet easily skipped over.

SHANNON
Becca, I just had a quick browse through the Prompts and Poses Cards and I'm amazed!! They are perfectly laid out with an image to show you - so helpful! Thanks so much!

MAREE S.