Inquiry Response Email for Lifestyle Family Photographers
Regular price

Sale price

$20.00
It's not an easy task to come up with the right words to truly convey what it is you do and also what the client should expect when working with you. All while getting the client excited to work with you and hopefully inspire them to book a session! I've decided to share with you the response that I crafted and have been using for my own business! It creates a welcoming and lighthearted environment from the start and also outlines expectations for location, styling, and session flow.
(If you purchase the full pack of my email templates, this email is included. This listing is if you ONLY need the Inquiry response email)
Please only purchase if you are at least 100 miles from Portland, Oregon. I use this email so that would be awkward!
What is Included

PDF file that includes the exact words that I send to my potential clients when they first reach out to me
Share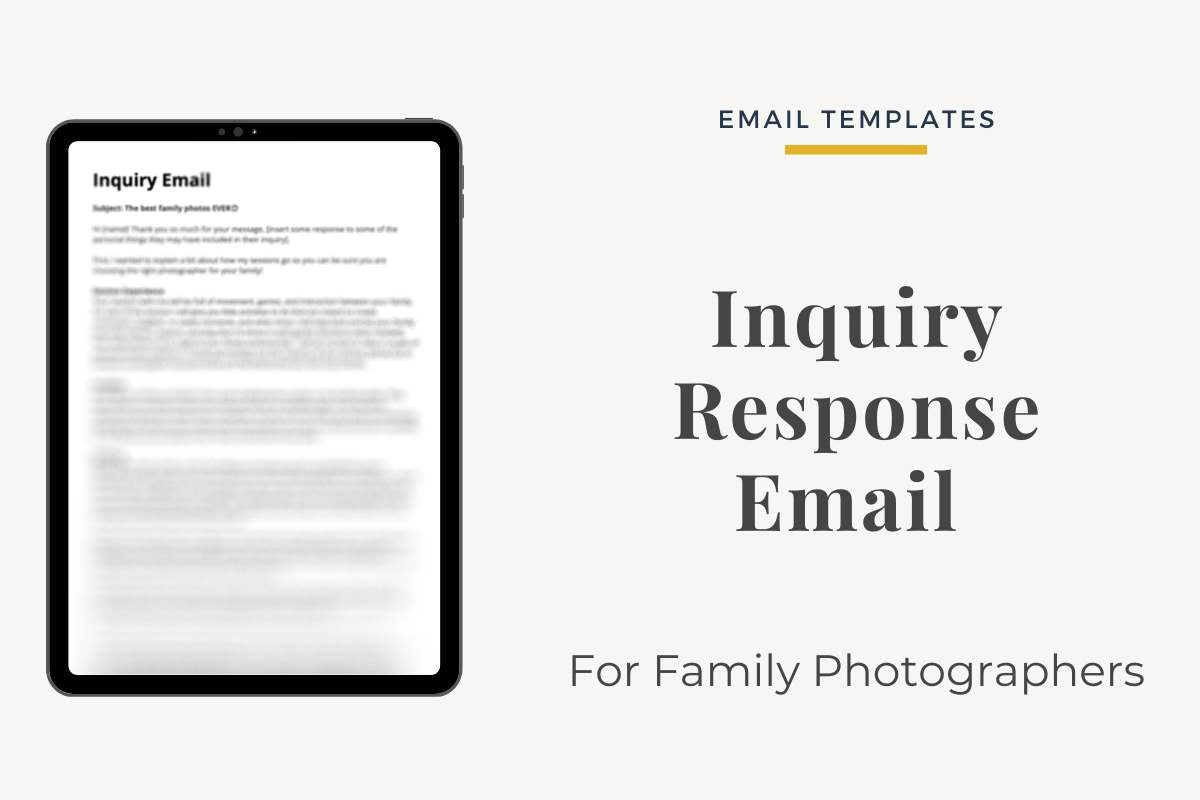 Getting Ghosted?
I'd love to help you with that! Start sending emails to potential clients that they will actually want to respond to!
After purchase, you will receive a downloadable pdf that you can copy and paste into your own email response when you get a new inquiry. Just tweak it so it makes sense for your business and how you run it.
FAQs
Will this email template work for my photography business?

As long as you photograph families, this should work great for you! The email focuses more on lifestyle photography, but you can adjust them to fit your business (for example, if you do a lot of portraits where clients are looking at the camera, you can take out the part about not looking at the camera 😉)
How do I use this template?

Copy the text from the included PDF and paste it into your emails! Then change it around to fit your business and you're ready to go. I'd suggest creating a template in your email system or CRM so it's are ready when you need it.
Do you offer refunds?

Since this is a digital product, it can't be returned so please be sure you are purchasing the correct product before checking out.
Can I use this if I live close to Portland, Oregon?

No, sorry! Since I take clients here, I ask that you not purchase this email template if you live within 100 miles of Portland, Oregon. It would be super awkward if we had the same client and they got the same emails from both of us.
Do I need this if I already purchased the Email Bundle?

Nope! The Inquiry Response Email was included in that bundle, so there is no need to buy it separately.
Testimonials



Becca Jean's inquiry response email was so helpful for me! I've always struggled with how to respond to potential clients, second guessing if I'm sharing too much or too little information. Becca's template is clear, kind, and informative for inquiries. It was a great example for me of how to respond to people in a friendly and direct way!

DESIREE J.
Once again, Becca is generous with her knowledge and has created a gold mine for Client Correspondence emails.  If you are new to photography or a seasoned photog looking to really up your client game, I highly recommend these templates.  They are CHOCK FULL of knowledge, incredibly well worded and thoughtful.  She explains to her clients the before, during and after a session in a way every client can relate to, and every photographer can appreciate.

SARA M.
I often struggle with how much information to give clients and what to say to them before a session. These email templates took that struggle away from me! Rebecca really lays out what to expect out of a session and it's definitely why Rebecca gets the natural and authentic moments from her clients. I'm so happy to now be able to offer this clear communication to my clients.

ERIN S.
Please only purchase if you are at least 100 miles from Portland, Oregon so we are not sending the same emails in the same area!