Model Call Guide for Photographers
Regular price

Sale price

$40.00
Are you a photographer who wants to up your game and start getting really great results from your model calls? Then this is the guide for you ❤️
This Model Call Guide is packed with 13 pages of essential information to help you run a successful model call. Inside, you'll find the exact words I use when conducting model calls, with three different examples to help you make it your own. You'll also learn three different ways to conduct your model calls, plus tips and advice for choosing the right people, letting people down gently, and planning and executing the perfect session.

So if you're serious about getting great results from your model calls, grab this guide now and see the difference it makes!
What is Included

The exact words I use when doing model calls with three different examples and suggestions on how to make it your own.
Three different ways to conduct your model calls.
Advice for choosing the right models
How to let people down gently
Tips for planning the session
What to do after the session
And lots more!
Share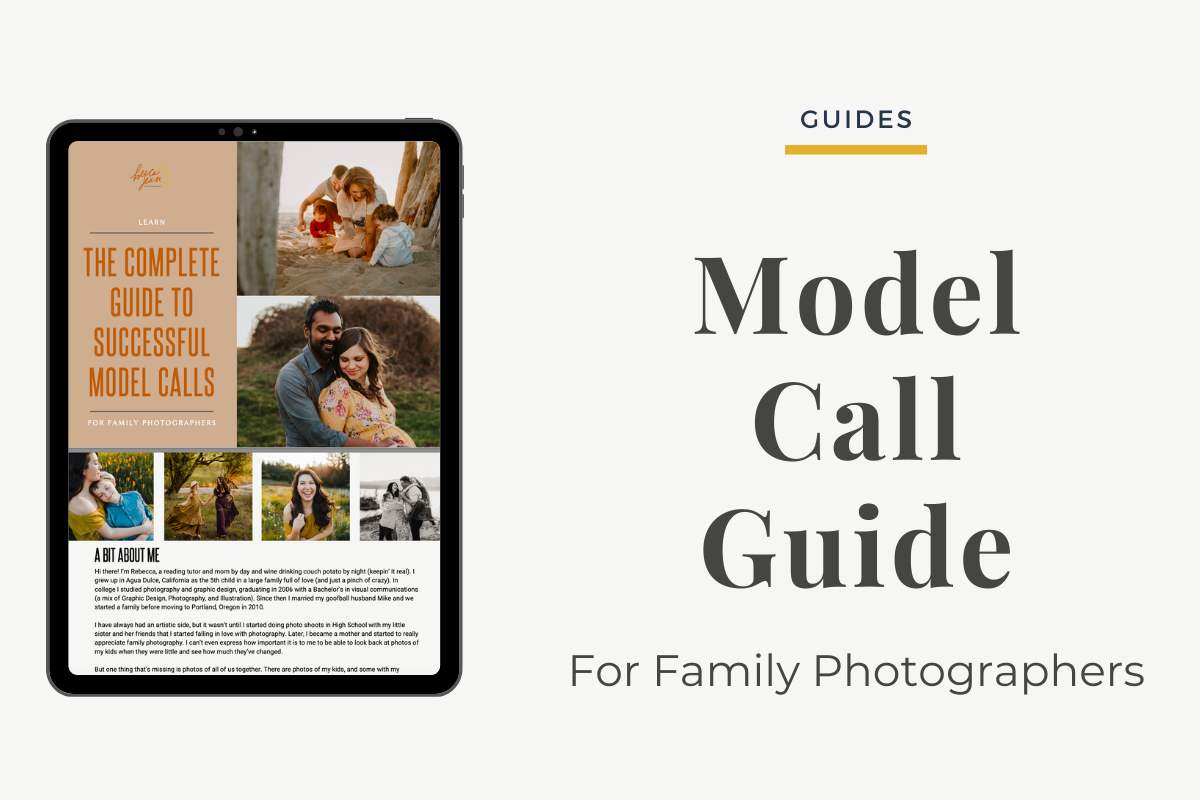 WHY DO I NEED A MODEL CALL GUIDE?
We've all been there. Spent so much time on planning a model call, asked the family to wear nice clothes, chose a great location... but it turns out the entire session is a waste because they didn't understand your vision at all. Or maybe you post a model call and it's just crickets. So frustrating.
This happens to a lot of photographers... you're not alone!
I've written a 13 page Model Call Guide that is PACKED with info to help you avoid this same thing happening to you.
FAQs
Does it tell me what to say in my model calls?

Definitely! There are three different scripts you can use: one for finding models yourself, and two for putting out model calls online (one for in-home sessions and one for outdoor)
Will this model call guide talk about styling?

Yes, I give tips on styling your models!
Do you offer refunds?

Since this is a digital product, it can't be returned so please be sure you are purchasing the correct product before checking out.
Will this guide work no matter where I live?

Yes! The advice in this guide is not specific to any location, so it will be helpful no matter where you are in the world.
What photographers are saying



I was shocked to see how much info was in it! It's very thorough and I love that it included examples of what to say. That's what I struggled with. What exactly to say.

CLAUDIA W.
This guide is amazing! It's extremely helpful and walks you through step by step on how to find and set up a model call. It even tells you exactly what to say when reaching out. I never thought I would be so excited to set up a model call!

ERIN S.
This guide is very thorough and addresses some hurdles you can face when trying to plan a model call as well as how to deal with potential pros and cons prior to deciding how to run the model call. The scripts are super helpful. Great tool to prep for a successful event!

KRISTEN C.